OWGR: No Ranking Points for LIV Bangkok, Jeddah
October 6, 2022

4 minutes read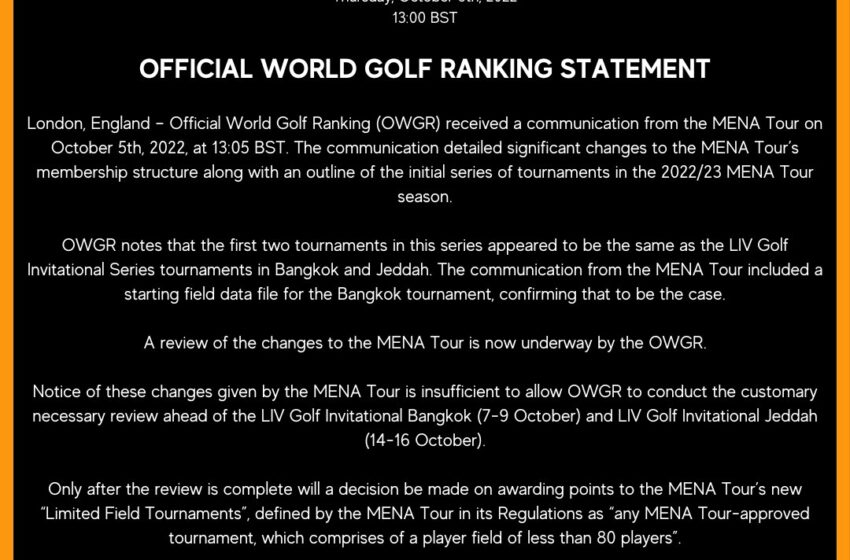 The Official World Golf Ranking announced Thursday that LIV Golf's next two events being held this week in Bangkok, Thailand, and next week in Jeddah, Saudi Arabia, would not be receiving rankings points from its organization.
On Wednesday, the MENA Tour, which has been recognized by the OWGR as an eligible tour since 2016 announced a strategic alliance with LIV Golf that included all LIV players becoming members of that tour. As part of the deal, MENA announced that all LIV players had become members of the Tour, and that the remainder of this year's LIV schedule as well as its 2023 slate would become part of the MENA Tour.
Because MENA was already an approved tour eligible to receive world ranking points, MENA said it expected points to be awarded to LIV events immediately, including for this week's tournament at Stonehill Golf Club, which begins tomorrow.
Thursday's statement from the OWGR—released on its website and via Twitter—says it will not be able to complete the necessary review of the changes to MENA's schedule in time to award points for either upcoming LIV tournament.
The process by which the rankings organization reached its decision was not disclosed. The OWGR—a private company organized in England in late 2003 when the PGA Tour, European Tour, and golf's major championships took over the ranking system's ownership and operation—lists no employees in its latest UK filing.
The company, whose Governing Board includes PGA Tour Commissioner Jay Monahan and DP World Tour CEO Keith Pelley, "[o]nly after the review is complete will a decision be made on awarding points to the MENA Tour's new 'Limited Field Tournaments,' defined by the MENA Tour in its Regulations as any MENA Tour-approved tournament, which comprises of a player field of less than 80 players.'"
The PGA Tour is currently a defendant in an antitrust lawsuit pending in federal court in California filed by LIV Golf and former PGA Tour players that includes allegations of illegal agreements between the PGA Tour and DP World Tour that restrain trade in the market for professional golf.
The DP World Tour, meanwhile, is embroiled in its own legal dispute with some of its members including Ryder Cup hero Ian Poulter, over punishments handed out by Pelley for participating in LIV events. That case is pending before an arbitration tribunal in the UK, with a full hearing scheduled for February 2023. An early victory for Poulter and the other players resulted in LIV players continuing to be eligible for DP World Tour events while the case works its way toward resolution.
The OWGR did not indicate in its statement whether Monahan or Pelley participated in the decision to deny—at least immediately—MENA and LIV world ranking points.
The MENA Tour, whose name stands Middle East and North Africa, said in its Wednesday release that it expected the alliance with LIV Golf would "boost the MENA Tour's development programs and immediately qualify LIV Golf for OWGR points, starting with the LIV Golf Thailand event at Stonehill this week."
Be sure to check back with The Golf Spectator for more LIV Golf and OWGR news.